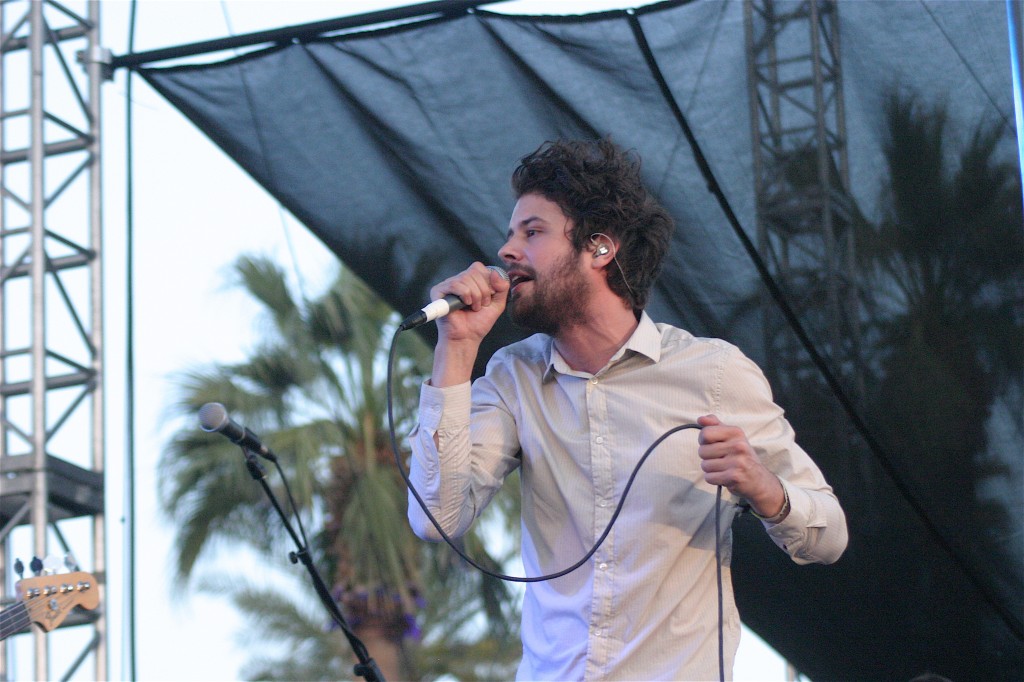 Deciding to go to Coachella I was excited and also a bit nervous.  We were renting a car (partly in my name) and driving for over twenty hours to then camp for three days in the middle of the desert, all for the love of music and the bragging rights to say to those back home, "I went to Coachella."  Coming from a city that hosts two of the biggest music festivals in the world, I traveled to Indio, California to find out what the fascination with Coachella is all about.
My first impression of Coachella was literally a parking lot of cars lining up to be inspected before parking.  However, surprisingly, no one was angry or upset.  In fact, beach balls were already bouncing from car to car, and the beginnings of tailgates were being constructed in
the back of truck beds and on top of automobile rooftops.  People were skipping around from car to car, going up to complete strangers chanting "Happy Coachella", as if it were an established holiday we all knew about. No one seemed to have a care in the world, not even law enforcement officials, who were more concerned with confiscating the glass jar that was holding one groups' weekend supply of marijuana than confiscating the marijuana itself.
Situated on polo fields, the festival is covered in a blanket of pristine grass, perfect for walking barefoot.  Everywhere you look, you see palm trees and mountains that turn a beautiful hue of purple each night at sunset.  With the exception of a couple hours in the middle of the day, the climate is perfect California weather – averaging between 60 and 80 degrees Fahrenheit.  Because you are in the desert, you don't have to worry about rain.  This is important, because a large number of the people who attend Coachella actually camp on-site.  One corner of the grounds turns into a little village of tents and RVs, complete with showers, a general store, farmers market, and cyber tent with solar powered mobile phone charging stations.  This is the only place you can drink, eat, and partake in your personal stash of recreational drugs free of charge.  What is even cooler is that DJs are actually hired to perform in the camp ground area for "late night tent sessions" after the main acts have ended.  So, in addition to not wanting to sit in traffic intoxicated, it just makes more sense to stay where many of the after parties—both official and unofficial—occur.
Being a girl who doesn't particularly like to camp, I was a bit skeptical, but it was actually not that bad, and really quite fun.  Additionally, it's a great way to meet people.  In weird way, it reminded me of being back in college and living in the dorms on-campus . . . the convenience and the ability to instantly socialize with people from all over the globe was worth the slightly sub-par living conditions that, under normal conditions, would be simply intolerable.
Our mornings consisted of a breakfast of PB&Js and a michilada (beer and spicy V8). We took turns plugging different people's MP3 players into the car stereo to hear respective "Coachella mixes" and playlists.  Strangers in tents next to us soon became "neighbors", pitching in for the $10 bag of ice to go into the community ice chest.  Some get clothes together to go stand in line for a proper shower, while others save time by running after the irrigation truck to take a quick dip as their shower for the day.  A few hours later, after successfully pre-partying, our group of old and new friends heads to the festival, with a program or iPhone app in hand of a list of acts to see.
Do I head to the front to get a good spot to see Hot Chip and MGMT? Do I fall to the back so I can easily maneuver between Muse and the Dead Weather?  Do I stick with my group of friends or go off on my own?  For three days, these are your biggest concerns.  Whether it's sticking it out to see a band that you adore and have seen a hundred times before or discovering something new, either way is an experience.
It's YOUR Coachella, and, like a snowflake, no two people's experiences are alike.  Yet, once you have gone, it is a bond you have with anyone else who has made the journey. Because, no matter what you experience at Coachella, there is an underlining sentiment that runs throughout the masses and is shared with all who attend; it is the feeling of getting away from everyday life, the feeling of truly checking all your worries at the door and, for three days, just focusing on the music and the art and the beauty of the world around you.  And, despite the sun, the dirt, the long lines, and smelly port-a potties, somehow it is still all worth it. To have the experience of a lifetime, and the urge to want to repeat it all again next year, THAT is the fascination with Coachella.
Words and photos by Katie "Coachella" Warner