The Environmental Protection Agency (EPA) has introduced a new rule for lead-based paint renovation, repair, and painting (RRP Rule) for any renovation work in pre-1978 homes and child-occupied facilities (schools, child care facilities, etc.).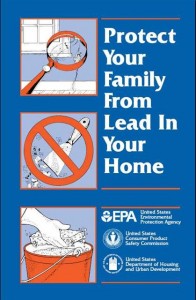 Before work commences, the area needs to be tested for lead-based paint.  It is estimated that about 50% of homes pre-1978 have lead-containing paint.
The sanding, cutting, and demolition from a project can cause lead dust, which comes from deteriorating lead-based paint and is hazardous to the body. Certified contractors are educated on the importance on containing the dust from leaving the area. Covering floors and sealing cooling systems are some of the ways to prevent the dust from circulating to different parts of the home.
Contractors must be certified, or the project may risk up to $37,500 per day in fines.  Home owners are responsible for checking a company's certification. A contractor should have proof that they have passed an EPA-recognized course and, upon completion, have a color photo ID as proof.
Property owners should anticipate project cost to increase due to added expenses to contractors being passed down to consumer. Certified companies will now have to invest more on education and certification.  Contractors will have added project costs, like lead testers, and more protective steps, including extra clean up and protective clothes.  Along with additional equipment, new procedures will require a lot more time on projects.  Contractor will also need to have notification pamphlets, area documentation, and report to EPA.
Projects on pre-1978 structures should not include any open flame burning, blasting with power tools, or heat guns with temperatures greater than 1100 degrees Fahrenheit. Once the job is complete, there should be no dust or debris left behind. Contractors are asked to clean area daily, but the final clean should include a HEPA vacuum or wet wiping/mopping with plenty of rinse water.
The EPA Regional office in Dallas is available for any additional questions or concerns you may have before or during your project at (214) 665-6444.
By Monica Pena