Just three months ago in Downtown Austin, two men were attacked near City Hall and brutally beaten because of their sexual orientation.
Yes, this happened here in Austin – the recently named 9th most gay-friendly city in the U.S. by The Advocate, a national magazine that covers lesbian, gay, bisexual, and transgendered (LGBT) issues. Protests and rallies took place in response to the brutality.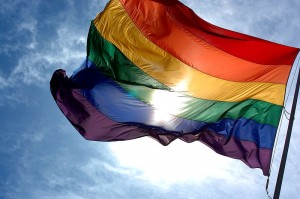 Despite this attack to the community, LGBT folks and allies will once again come together; this time in celebration of LGBT Pride Month. Put on by the Austin Gay and Lesbian Chamber of Commerce and The Austin Gay and Lesbian Pride Foundation, June 4th and Saturday, June 5th will feature Pride events across the city, including film screenings, short plays, musical performances, yoga, and the long enjoyed Annual Pride Parade.
June 2010 honors the 10-year anniversary of Gay Pride Month. Proclaimed by President Clinton in 2000, June originally became celebrated as "Gay & Lesbian Pride Month".  In 2009, President Obama included bisexual and transgendered persons in the renamed "LGBT Pride Month", as a proclamation to "turn back discrimination and prejudice everywhere it exists." June is symbolic as the month of celebration because it is in remembrance of the 1969 Stonewall Riots in Manhattan, believed to be the beginning of the gay liberation movement in the U.S. From coast to coast, in cities across the U.S., and in some countries around the globe, Pride celebrations will take place throughout June.
On Friday, June 4,The Long Center features "A Night of Austin's Finest LGBT Musicians", including Robin Smith, Tribella, Patrice Pike, and a special appearance by DJ Chris Cox. Festivities continue on Saturday, June 5 with performances by Kat Devlin, Lindsev Kane, Lisa Marshal, and the Austin Baptist Women; a pet parade; and games, such as "Show me your box" and "Bachelor/Bachelorette."  For the little ones, there will be craft tables, balloons, face painting, and games. Mr. Lebott, a children's musician, will also be performing.
Saturday also features The Austin Pride Run, self-proclaimed as "the most accepting and the most fun 5K in Texas". They welcome straight, gay, lesbian, questioning, transgenders—anyone who wants to experience Austin's unique vibe and have some fun. This year's costume theme is "Run on the beach." The event begins at 9AM from The Long Center. Registration is required.
The main event—The Annual Austin Pride Parade—will start at 8:30 PM on Saturday evening and travel throughout downtown Austin. Having historically drawn a crowd of up to 45,000, the parade features activists from church groups, clubs, arts groups, bands, restaurants, bars, retail stores, and miscellaneous organizations who support LGBT issues.
Following the Parade, folks will likely migrate to the 4th Street Block Party, the official after-party of the Pride Parade. The Block Party offers a chance to meet Jayden Grey and other stars while DJ Troy Sands spins. Emcees Amy Keillor and Rich Segal will entertain throughout the night, along with performances from Frenchie Davis , Blake Lewis, and DJ Chris Cox.
General Admission Passes are available for only $10 and include: access to Vendor Expo and all events on the mezzanine, Rollins Theater, and the City Terrace at the Long Center. VIP Passes are also available.
By Ani Mirasol