Upon returning from a month trip to Brazil, I returned with new favorite foods and cravings I could not satisfy.  I was drinking liters of Guarana, a Brazilian soda similar to Fresca, and was breaking the bank and my diet trying to go to Fogo de Chao on a regular basis.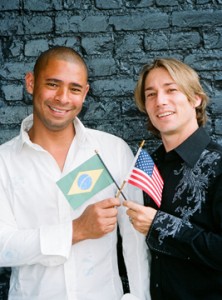 With my tan starting to fade, I sadly started to accept that I may actually have to take a 10 hour flight back to Brazil in order to enjoy proper Brazilian food.  When out of nowhere, Christ the Redeemer dropped these two wonderful men into my life!
Trying to work off the Fogo de Chao, I had decided to get up at a decent hour on a Saturday and walk my dog to the downtown farmer's market, where I met Ben Googins, an American that had lived in Brazil and Elias Martins, a native of Rio de Janeiro.
At the time they sold pão de queijo, a delicious cheese bread made with yucca, and delicious sauces made of malageta, a Brazilian pepper, mango, pineapple and coconut.
As time progressed, Elias and Ben expanded the menu to add salgadinhos, a delicious pastry pocket, similar to that of an empanada.  Most recently, Ben and Elias have opened up their own restaurant, vibrantly painted yellow and green, the colors of the Brazilian flag.
You can leisurely dine inside or conveniently drive through and order from your car.
In addition to the pão de queijo and the salgadinhos, the menu now includes salads and a brunch menu on Sundays.  The restaurant serves beer and wine, and you can bring in your own vodka or cachaça and for $2 you can purchase a caipirinha set-up.
Rio's Brazilian is located at 408 N. Pleasant Valley Road (between Cesar Chavez & E 7th St.).  You can also follow them on their blog, Flavor of Brazil, that mentions restaurant specials and events.
By Katie Warner