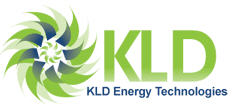 December 30, 2010 –  The Austin Chamber of Commerce and the Central
Texas Regional Center of Innovation and Commercialization (CenTex RCIC)
announce that the State of Texas has chosen KLD Energy Technologies, Inc. (KLD) as the recipient of a commercialization award funded through the Texas Emerging Technology Fund (ETF). The company, which develops clean energy technologies and manufactures high-performance electric drive systems, will receive a $2.8 million award to forward the commercialization of its technology.
"We are always excited at the chance to invest in an innovative company aiding in the development of alternate energy technologies," said Jack McDonald, President, Silverback Acquisitions and Chairman of the CenTex RCIC. "The demand for advancements to assist in the development of non-gasoline motors and engines is sky high and there is great potential for a new market to be located here in Central Texas."


KLD's initial product, stemming from its research and development efforts, is an innovative, complete motor system redefining the performance of electric vehicles. The transmissionless, electric drive system improves the performance of vehicles while substantially decreasing the negative impact on the environment.
Leveraging an innovative composite material, the drive system conducts energy with greater efficiency than traditional, iron-core motors. The drive system is designed for high frequency and low-RPM operations. This proprietary approach eliminates the need for a transmission resulting in a substantial increase in system efficiency.
KLD's motor works in tandem with its advanced electric motor controller and modular battery packs. The result is a system enabling electric vehicles to perform at an exceptionally more advanced level, and attain speeds and levels of responsiveness comparable to today's gas-powered vehicles.
"We are pleased to receive funding from the State of Texas to forward the commercialization of our cutting-edge technology," says Mark Wabschall, CFO of KLD. "The financial support we have been awarded from the State of Texas is invaluable in fueling our growth and expansion plans. We feel privileged to be part of this unique initiative that supports innovation in Texas."
ETF funding will enable the company to accelerate the commercialization of its high-performance electric drive system, execute its expansion strategy and introduce its products to new markets. The company is undertaking pilot production of its drive system, including the manufacturing of circuit boards used in its motor, motor controller and battery systems at its Austin-based manufacturing and research-and-development facility which opened earlier this year. KLD has created approximately 50 jobs in the region and, in 2011, anticipates adding 28 more.
KLD is initially targeting densely populated regions in Asia where zero-emission vehicles are increasingly being mandated. Experts forecast that more than 466 million e-bikes, e-motorcycles and e-scooters will be sold worldwide from 2010 to 2016, with the fastest growth in Asia Pacific in China.
KLD is collaborating with the University of Texas at Austin's Department of Electrical and Computer Engineering to undertake key research of its drive system's performance capabilities.
KLD was selected by the CenTex RCIC after an extensive due diligence process based on multiple criteria, including a stringent analyses of the market and financial opportunity, technology potential, management team and economic impact to Texas.
The CenTex RCIC is a virtual center that operates out of the Austin Chamber of Commerce and serves as a catalyst for emerging technology research, development, commercialization and start-up incubation. In an effort to keep Texas globally competitive, the CenTex RCIC focuses on integrating technology development and commercialization in a 15-county region.
Provided by
Austin Chamber of Commerce