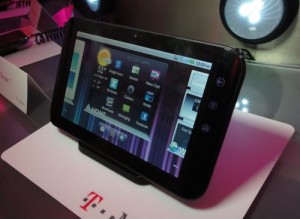 Yes, T-Mobile will be getting its own, LG-made Android "Honeycomb" tablet to go head-to-head with Motorola's sexy Xoom. But the G-Slate made only a fleeting cameo during T-Mobile's CES press event Thursday; instead, the story was more about 4G-ready but non-Honeycomb Dell Streak 7.
Set for release in the "coming weeks," the seven-inch, Android 2.2-based Streak will represent the carrier's first 4G tablet, running on T-Mobile's speedy HSPA+ network.
Of course, what does or does not constitute 4G has become something of a sticking point in the past several weeks, with T-Mobile execs going to great pains Thursday to demonstrate the speed of their HSPA+ network—which, strictly speaking, is really just an extension of existing 3G technology.
The carrier went as far as to bring up a couple of laptops to demonstrate how fast its HSPA+ network is compared to Verizon's recently launched 4G LTE network. Naturally, T-Mobile's network smoked Verizon's—in this particular Las Vegas conference room, at least. (T-Mobile also brags that it will double its 4G download speeds to a peak of 42 Mbps for two-thirds of its coverage area by the end of 2011.)
In any case, we'll let the carriers continue arguing about who's got the fastest 4G network; for now, I'd rather focus on the Streak 7, a follow-up of Dell's five-inch Streak from last summer.
Armed with a 1GHz dual-core Tegra 2 processor, the Streak 7 will run on Android 2.2 "Froyo"—no, not the just-announced Android 3.0 Honeycomb, which has been custom-built for tablets—and comes with a pair of cameras, a 1.3MP lens up front for video chat and a 5MP snapper in back.
The Streak's seven-inch display boasts a resolution of 800-by-480, and yes—full-on Flash support is part of the deal, along with Wi-Fi data sharing for up to five devices.
I gave the one-pound Streak (no pricing details yet) a brief test-drive after T-Mobile's presentation, and sure enough, it's fast and peppy, and comes with a Dell-designed skin—dubbed "Stage"—that offers quick access to your tunes, messages, the Web, and your social-networking pals.
But as I mentioned above, the Streak will be shipping without Honeycomb, and I suspect that many tablet shoppers will end up waiting until the Honeycomb devices—like the Motorola Xoom for Verizon and the G-Slate, which LG CEO Dr. J. S. Park showed off ever so briefly during the press conference arrive on the scene.